Ultra Blade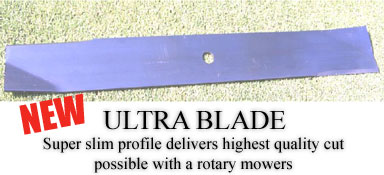 The Ultra Blade is engineered for the professional turfgrass manager who is serious about achieving the highest quality of cut possible with a rotary mower. The Ultra Blade is manufactured from high chrome / nickel alloys, specifically heat treated and polished for maximum performance and longevity.
With a super thin profile, the Ultra Blade glides through grass and delivers a quality of cut comparable to most reel type mowers. The special alloy steel holds a sharp edge much longer than conventional rotary blades. When re-sharpening is necessary, just one to two passes along the cutting edge restores the blade to its original razor sharp edge.
Turf Pride can manufacture Ultra Blades to fit most rotary mowers. Contact us for more information.
OEM Names used for descriptive purposes only. Turf Pride claims no association with these companies. Availability, pricing and specifications subject to change without notice.