Finish Mower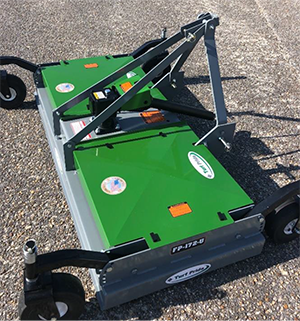 Download Brochure
Turn your tractor into a turf mowing machine with the new Turf Pride Finish Mowers. These new Finish
Mowers deliver superior grass cutting performance for your manicured turf. 72" Mowers help you save time
spent cutting your turf. The Turf Pride Finish Mowers are manufactured to the highest quality standards
for durability and performance.
Powerful and Smooth!
1 Year Limited Warranty with a 5 Year Gearbox Warranty
72 inch Cutting Widths
Minimum Required HP 25-35 to meet the needs of today's
smaller compact tractors
Quick Hitch compatibility on all models allows for easier hook up
Contour of terrain with 3 anti-scalp rollers
High Speed Blades
1-1/2" blade overlap eliminates streaking
Cutting height adjustment is made with quick placed spacers
from 1/2" to 3"
No discharge – Fully enclosed decks
Durable 7-gauge steel decks
Greasing blade spindles and idlers is easy
Adjustable Spring-Loaded idlers maintain proper belt tension
Kevlar belts reduce stretching